Introducing our free voter guide print template – the perfect tool to help you create a comprehensive and professional-looking voter guide in no time! Our template is designed to be fully editable. You can change text, colors, fonts, and add images to create a personalized guide that fits your needs.
With a focus on usability and flexibility, this template is designed to save you time while providing the necessary information voters need to make informed decisions. Plus, your finished guide can be printed or distributed as a PDF, making it easy to share with your community or online. Download our free template today and get started on creating a comprehensive and professional voter guide that is sure to make an impact!
Canva templates are easy to edit, even if you don't have any graphic design experience.

How to use this free template
Create an account with Canva. The free version is enough for most solo users. However, there are many feature advantages with the Pro account. 
Click on the links below to open the templates. You should be brought to a page for each template that looks something like this: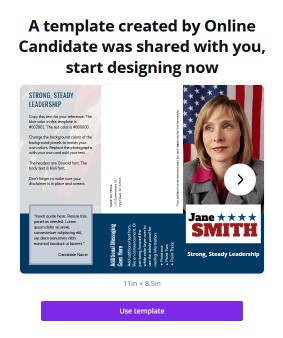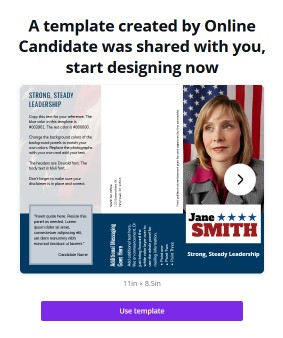 The page displays a template preview along with a button that says "Use Template". Simply click that button to start editing the template. You can also make a copy so that you can keep an "original" template your Canva account.
From there, you can edit any or all design elements, including color, photos add your logo and make it your own. You can download your customized items as a jpg, png or PDF for print and mailer purposes.
Your Voter Guide Template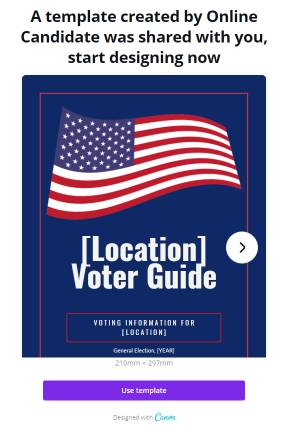 Voter Guide [Log in to Access.]
This resource is available to members.
OnlineCandiateResources.com provides access to:
Online political campaigning articles

Custom tools, including the Campaign Letter Generator

Free social media graphics and brochure templates

Website copy examples and political resources

And more.
For Online Candidate clients, membership is FREE.
Not a client? You can still join.