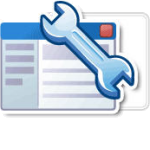 In our previous article, we discussed how to set up a Google Webmaster account. Now that the account is set up and running, we can talk about how your campaign can benefit from the the information it provides.  We're going to go through each section on the Webmaster Tools dashboard, step by step.
Messages
Google uses this section to communicate information about your site. These messages are usually important and worth reading. For example, Google may inform you that your site has been detected hosting malware (or probably been hacked), or that a WordPress update is available.
You may want to have these messages forwarded to your email account. Click the "Google Search Console (formerly Google Webmaster Tools)" logo in the top-left to go back to the homepage. In the upper-right section of the screen there should be a drop down that says "Don't forward messages." Clicking it will give you the option to forward messages to any email address associated with your Google Account.
Site Configuration
Sitemaps
Sitemaps provide Google with a list of pages on your site. These help the search engine to crawl and index your entire website. Sitemaps are not very important if you have a small site (10 or so pages), but it's never a bad thing to have.
To submit a sitemap, you'll first have to create one for your website. If you are using WordPress, you can use Google XML Sitemaps for this. Yoast's SEO plugin includes sitemaps as one of many features. If you're not on WordPress, this site can build one for you or you can create a sitemap manually.
Once you have created and/or uploaded a sitemap file to your site, you can submit it via the button in Webmaster Tools, you just need to know its URL (for Online Candidate clients, it will be http://yoursite.com/sitemap.xml). When you check back later, Google will tell you if it had any problems with the sitemap, how many web pages were in the sitemap, and how many of those pages are currently included in Google's index.
Sitelinks
Sitelinks are automatically generated links that may appear under your site's search results. You can see this when you search for a domain name. Sometimes a single website will dominate the results, with Google displaying what is essentially a menu for the site. When you search for your website by name, and you see sitelinks under your listing, then the Sitelinks section of Google Search Console (formerly Google Webmaster Tools) might be helpful for you.
Look at the sitelinks that appear and see if any are pages you don't want appearing here. If so, fill out Google's form and enter the URL of the sitelink you wish to remove.
Change of Address
Google Search Console (formerly Google Webmaster Tools) can help you change your website's address from one name to another. For example, a campaign may want to change the name of the website from a .com to .org. To do this, you'll first need to verify your new domain name address before using this tool. Before you change your web address to a new or another domain name, you must know how to do this correctly. You can ruin your search visibility and all your page rankings if you change your address improperly. Check out this article from Google for more information.
Settings
The settings page presents these options:
Geographic target – If you specifically target users of a particular country, you can set this option.
Preferred domain – Your site should not show up as both www.yoursite.com and yoursite.com – one should automatically redirect to the other (use what's called a 301 redirect). For WordPress sites, this should be automatic. Whether you choose www or not, you should choose the same for your Preferred domain here.
Crawl rate – This determines how rapidly Google's spider crawls your site. Leaving it to default is probably best. This setting is good in order to slow down the crawler if it is overloading your site.
URL Parameters
Parameters are added onto the end of a web address – for instance, rather than http://yoursite.com, you might have http://yoursite.com?utm_source=search. In this case, the utm_source designation is used for Google Analytics – and could be ignored by Google's crawler, because it does not affect the content of your web page.
On the other hand, some sites are set up so that these parameters actually determine which page on the site will be served. If Google ignores the parameters, it will fail to index most of your site. An example of this might be http://yoursite.com?story=11
In the URL Parameters section, Google will display parameters it has seen used on your site (if any). The default, "Let Googlebot decide" is often better than messing things up if this is all foreign to you. If, however, Google is indexing many identical pages, you can click "edit," and tell it that the parameter has no effect on content.
User Administration
Use this section to manage user email addresses and manage site owners.
Your Site On The Web
Okay, we're finished with the technical material. In the "Your Site On The Web" section, Google provides information that it knows about your site.
Search Queries
The search queries report will show you the number of impressions and clicks your site is generating through Google.
The numbers are imprecise, but provide a general idea of what's going on. You can also dig into data for particular queries. This is helpful to see if a little work might push you up in ranking for a particular search or to see where your click-through rate is particularly good/bad.
You can also click the "Top pages" tab to see your data by web page – again helpful to see which pages would provide the most benefit from improvement.
Search query data can also be seen in Google Analytics, which is often more useful.
Links to Your Site
This section shows websites linking to your site. It's actually not that helpful, as Google only shows a sampling of the links it has found. There are three sections here:
Who links the most – See how many links point to your site from particular domains.
Your most linked content – Find the pages on your website that have attracted the most outside links.
How your data is linked – Shows the most commonly used anchor text. This refers to the actual text used in the link pointing to your site.
Content Keywords
Here you will find a list of words that are commonly used on your site. This is one of the methods Google uses to determine the topic of your website. If most of the keywords are not related to your candidate/campaign/issue, you should try to work more relevant keywords into your website content.
Click on a word in the list to see the number of its occurrences, variations on the word that Google considers the same (such as plurals), and the specific pages on your site where Google finds the word most frequently.
Internal Links
This section displays a list of the pages on your website, and the number of "Internal links" pointing at each page. Internal links are links from one page on your website to another. Internal links help Google determine what is important content on your website.
You can click on any page to see a list of the pages linking to it. Pages with the highest counts will usually be those included in your site-wide navigation.
A takeaway from this report is to make sure that your key pages are among those with the most internal links.
Subscriber Stats
If your site publishes a RSS feed, and there are subscribers using Google products (like Feedburner) to access it, the number will show up here. You can submit your feed as a sitemap here as well, which can help keep Google informed your site updates.
+1 Metrics
The Google +1 button similar to Facebook's "Like" button, allowing people save and share your content.
Search Impact
This area describes how +1′s have impacted your site in the search results. You can see how frequently a result was displayed that told a searcher it had been "+1′d," and what impact this had on the click-through rate for that result.
Activity
The +1 activity report shows the rate at which you are receiving +1′s, and the pages which are +1′d the most.
Audience
The audience section displays the number of total users that have +1′d a page on your site. Once you have a reasonable number of +1′s, demographic information is also displayed.
Diagnostics
The diagnostics section of Webmaster Tools alerts you to problems with your site.
Malware
In an effort to protect searchers, Google scans sites for malware. Alerts will appear here if malware is found on your site, which usually occurs if your site has been hacked.
Google provides suggestions for dealing with malware.
If you believe your site does not actually contain any malware, you can request a "malware review" from within this section of Webmaster Tools (only when malware has been detected). It is important to do this. If Google believes there is malware on your site, it can dramatically lower your search rankings.
Crawl Errors
This page displays problems Google had when crawling your site. The most common problems you'll probably see are:
Not found – This indicates there are links to a page that does not exist. A good solution is often to create a 301-redirect, pointing the missing page to another page. If the link/page are really meaningless, you can ignore it – not found errors should not impact your ranking.
Restricted by robots.txt – These are pages Google is being told not to crawl. Make sure there is nothing that you actually want indexed in here. Read the "Crawler Access" section above for more about robots.txt.
Crawl Stats
This section shows the recent Googlebot activity on your site. Watch for any sudden drop-offs in the number of pages crawled per day. You want Google to be consistently looking at your site. A big drop-off could indicate a problem. Also, spikes in the "Time spent downloading a page" may indicate that your server is having trouble serving up pages quickly.
Fetch As Googlebot
You can ask Google to crawl a specific page on your site. One particular use for this tool is when Google says malware exists on your site. The hacker may have setup your site to display different content to Google than your visitors.
You are limited to 50 fetches per week.
Once a web page has been fetched, you can manually "Submit to index." You can submit up to 10 pages per week (and can ask Google to look at all pages linked from that one as well). Generally, Google is good at finding pages, so you don't need to rely on this tool to submit every new page on your site.
HTML Suggestions
Title tags and meta descriptions are html elements that Google often displays in search results. Each page on your site should have a unique title and meta description. This section will alert you to pages that have duplicatge title/meta descriptions, or those metas are too long, too short, or do not provide useful information.
It's a good idea to visit this report periodically, and consider fixing any tags which Google reports as problematic.
Labs
The labs area includes features which Google considers still under development, although some of these have been there for quite a while.
Custom Search
This tool will allow you to create a customized search experience for your own website. By default, this preview searches only your own site. You can add other sites or pages after you save the custom search engine.
Instant Previews
Google provides small image previews in the search results (click the magnifying glass next to any result). You can get a preview of these preview images using this tool. Google also provides help if your picture is not displaying the content normally seen on your website.
Site Performance
Google now uses site load time as a factor in its search rankings. The company has stated that site speed is not a major ranking factor, but that sites with very slow load times may experience lower rankings. This tool shows how your site speed has changed over time, and how it compares to other websites.
In general, don't be too concerned about this report unless your performance is very low. (To get under the "fast" line, your site needs to load in about 1.5 seconds – which is pretty quick.)
Conclusion
Google Search Console (formerly Google Webmaster Tools) can help you understand how Google sees your site and spot any serious problems hurting its search rankings. If you haven't created an account, it's definitely recommended!
This resource is available to members.
OnlineCandiateResources.com provides access to:
Online political campaigning articles

Downloadable campaign worksheets and checklists

Custom tools, including the Campaign Letter Generator

Political resources for fundraising, email and promotion

And more.
Access is FREE for Online Candidate website clients. Find out more.