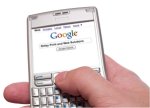 I had a recent conversation about building traffic. The topic of text messaging vs email came up.
"Email isn't very important these day," I was told. "Between Facebook, Twitter and text messaging, email just isn't that effective anymore."
Is that true? Email is dead?
There's an old online marking phrase that "the money is in the list". Whether that list is for text messaging through a short message service (SMS) or an email list, or a offline donor list, it's all important. What you do with that list will determine your success.
This resource is available to members.
OnlineCandiateResources.com provides access to:
Online political campaigning articles

Downloadable campaign worksheets and checklists

Custom tools, including the Campaign Letter Generator

Political resources for fundraising, email and promotion

And more.
Access is FREE for Online Candidate website clients. Find out more.