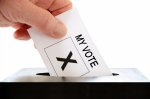 There are two types of election campaigns in the US – the primary and the general election. The primary ballot lists all the candidates who are looking to run for that office. Whoever wins the primary election goes on to be on the ballot as the party's candidate for the general election. The general election then decides the final winner to hold office.
Some candidates work hard to secure a primary victory, and then begin the campaigning process all over again for the general election. A lot of candidates don't want to put in the effort of starting a campaign website until after they've secured a primary. That can be a big mistake.
This resource is available to members.
OnlineCandiateResources.com provides access to:
Online political campaigning articles

Downloadable campaign worksheets and checklists

Custom tools, including the Campaign Letter Generator

Political resources for fundraising, email and promotion

And more.
Access is FREE for Online Candidate website clients. Find out more.
You may be interested in...