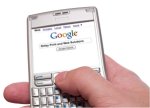 Here's another issue that some clients have when their campaign websites start to rank in the search engines – the site's About Page ranks higher than the site's Home Page.
So why would the About Page get top billing? Typically, a website's Home Page is the 'strongest' page, one that tends to rank in the search engines for a candidate's name.
Here are a few reasons why this could happen, some recommended changes you should make, along with suggestions to help your overall site rank better in the process.
This resource is available to members.
OnlineCandiateResources.com provides access to:
Online political campaigning articles

Custom tools, including the Campaign Letter Generator

Free social media graphics and brochure templates

Website copy examples and political resources

And more.
For Online Candidate clients, membership is FREE.
Not a client? You can still join.