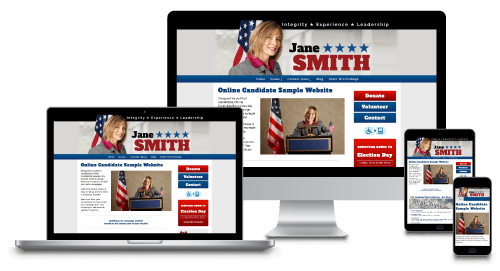 For Online Candidate clients, access to this site is FREE. Simply log in to your website administration and check the Marketing Tab for access information.
Not an Online Candidate client? Check out our affordable campaign website packages, and find out how we can give your campaign the winning edge – or see below.
---

Access for Non-Online Candidate Clients is purchased for a set, non-recurring period.
What does the members-only content include?
Article Modules: Each module covers a major aspect of online political campaigning. The module articles cover the most important information you need to know. Supplemental and how-to articles are also included, with links and additional resources.
Online Campaign Tools: Generate letters, press releases and email templates. Other tools include our search query tool and QR code generator.
Free Graphic Resources: Access free Political Print Templates, Social Media Graphic Templates and Banner Graphic Templates that you can easily edit and use.
esource Directory: Find political services, online tools and resources for your digital campaign.
One-time, non-recurring cost.
Have more questions? Check out our FAQs.
Questions or problems with registering? Contact us at contact [@] onlinecandidateresources.com