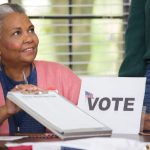 As Election Day draws near, it's no time to slow down! Your final Get Out the Vote drive can mean the difference between winning and losing. Your GOTV push should be performed both offline and online to reinforce your message and to remind supporters that without their vote you cannot win.
This resource is available to members.
OnlineCandiateResources.com provides access to:
Online political campaigning articles

Custom tools, including the Campaign Letter Generator

Free social media graphics and brochure templates

Website copy examples and political resources

And more.
For Online Candidate website clients, membership is FREE.
Not a client? You can still join.

You may be interested in...