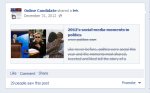 While content and updates are important to a campaign's social media efforts, the performance of that material is of equal importance. If no one sees a Facebook update, did it ever matter? The big question is how to get the most likes, comments and overall interaction from your material.
The infograph below contains facts and figures about types of content that work best, how to get more comments, likes and shares, as well as how to use emoticons to get the most out of your posts.
Post, track, refine to find out what types of posts get the most attention and response.
This resource is available to members.
OnlineCandiateResources.com provides access to:
Online political campaigning articles

Custom tools, including the Campaign Letter Generator

Free social media graphics and brochure templates

Website copy examples and political resources

And more.
For Online Candidate website clients, membership is FREE.
Not a client? You can still join.