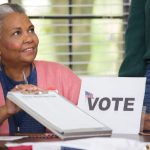 What's the most important thing that a voter needs to support your campaign? That's right, the information required to vote. Not only does a person need to be registered to vote, they also need access to absentee ballot information, polling place locations, voter registration deadlines and more. Is your campaign providing that information? If not, here are some resources to help pass the information along.
This resource is available to members.
OnlineCandiateResources.com provides access to:
Online political campaigning articles

Downloadable campaign worksheets and checklists

Custom tools, including the Campaign Letter Generator

Political resources for fundraising, email and promotion

And more.
Access is FREE for Online Candidate website clients. Find out more.