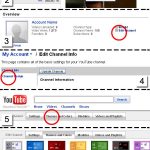 For campaigns without access to advanced video editing software, YouTube has it's own online video editor. It allows channel owners to upload a video directly to YouTube and then perform the edits online, which can make the process faster and more streamlined. The editor is geared primarily for people who create videos on Flip cameras or mobile phones.
The initial editing capabilities were pretty basic, but additional capabilities have been added over time. With the Video Editor, you can:
Combine multiple videos you've uploaded to create a new longer video
Trim your uploads to custom lengths
Add a soundtrack from a library of approved tracks
Customize clips with special tools and effects
This resource is available to members.
OnlineCandiateResources.com provides access to:
Online political campaigning articles

Downloadable campaign worksheets and checklists

Custom tools, including the Campaign Letter Generator

Political resources for fundraising, email and promotion

And more.
Access is FREE for Online Candidate website clients. Find out more.