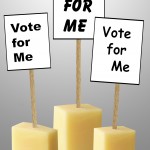 It's a good question. Should a yard sign include the domain name of the candidate? It it important or even necessary?
There are two schools of thought on this topic. There's the promotional aspect to getting the domain name out there. Then there is the idea that a campaign yard sign is simply about name branding. Which is right?
When we first started working with political campaigns, websites were still somewhat of a novelty for local candidates. Back in the early 2000s, if you didn't tell people about your campaign website, many people would not even think to look for you online. The internet was not as prevalent in households as it is today. These days, the internet is an important and growing influence on all things political.
This resource is available to members.
OnlineCandiateResources.com provides access to:
Online political campaigning articles

Downloadable campaign worksheets and checklists

Custom tools, including the Campaign Letter Generator

Political resources for fundraising, email and promotion

And more.
Access is FREE for Online Candidate website clients. Find out more.
You may be interested in...