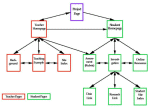 Web users make snap decision about the quality of a web page, often within a second or two. Therefore, a nice design is critical to make that positive initial impression. The website head header is the first thing that a visitor sees, you'll want to make it a good one.  Here's how!
This resource is available to members.
OnlineCandiateResources.com provides access to:
Online political campaigning articles

Downloadable campaign worksheets and checklists

Custom tools, including the Campaign Letter Generator

Political resources for fundraising, email and promotion

And more.
Access is FREE for Online Candidate website clients. Find out more.
You may be interested in...