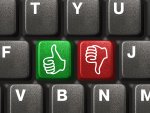 You only have one chance to make a good first impression. On the web, that first chance might be your only chance, and that chance might only be a few seconds. Visitors decide within a few seconds whether they will stay on the site or keep moving. This is usually decided by the design of the website.
For political campaign websites, visitors are probably looking for information, so they may be more likely to stick around longer. But even if a visitor decides to learn more about you as a candidate, what you say and how you present yourself online influences voter support.
So, what does your campaign website say about you?
This resource is available to members.
OnlineCandiateResources.com provides access to:
Online political campaigning articles

Downloadable campaign worksheets and checklists

Custom tools, including the Campaign Letter Generator

Political resources for fundraising, email and promotion

And more.
Access is FREE for Online Candidate website clients. Find out more.