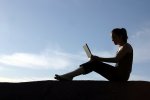 It doesn't matter if you're new to the web or if you've been online since the days of CompuServe. Odds are there is information about you online can be accessed with just a simple search engine query.
Go ahead, 'google' yourself. Do a search on google.com for your name. What shows up in the results? There might be pages that just randomly contain your first and last name. Or perhaps you share a name with someone else, and results about that other person are showing up. If this is the case, why is information about that other person appearing rather than information about you?
If that other person is somewhat famous (or infamous), there may be articles, blog posts or other content about or pertaining to that person. Another, more likely reason, is that the person actually put information about himself or herself online. Search engines picked up this content, indexed it, and now provide that content as search results whenever someone types in that person's name.
As a candidate, you will want influence over what people see, hear and read about you on the web. To do that, you need an online identity. Creating an online identity is simple, and you can do it over time. To start, you need a clear purpose. What are you hoping to accomplish by building an online identity? If it is for political reasons, then you want to create a personal brand. That means getting yourself – your history and goals – out on the web.
The ultimate goal of building an online identity is search result page domination. This means that when someone searches your name, that person will find the positive information that you want people to see in the top search results. By dominating these search results, you can push down and make unfavorable material that much harder to find.
The first step is to create personal profiles on several free social networks and resume websites. These profiles will reside in sites that are popular, have a high search engine authority, and tend to rank well for personal name searches. Many websites fit this criterion, but we are going to start with the following:
Google+
LinkedIn
ZoomInfo
Visual CV
Naymes
DandyID
Google+ – https://accounts.google.com
Google, as you probably know, is the 1000-pound gorilla in search. A Google Plus account allows you to create a public profile that will will help your search ranking, authorship authentication and overall social media presence. This profile is important, as this account is the hub for other Google services, such as Webmaster Tools, Analytics and AdWords.
LinkedIn – http://www.linkedin.com
LinkedIn's networking audience tends to be business professionals, but the site can be used by people in any field. With a profile, you can post your resume information and link with others. It's not a site where you are likely to 'campaign', but more of a place to lay groundwork before your campaign is launched.
LinkedIn Groups are sub-communities where you can participate and find targeted contacts. Search keywords of interest such as a company name, market sector, etc. to find related groups.
LinkedIn Tips
When you edit your LinkedIn profile, put something interesting in your Professional Headline. When people search for you, they will see this tagline.
Use the Summary section to its fullest. Add plenty of detail about your professional experience, goal and specialties.
Consider creating a vanity URL. It's easy to set up, and it makes for a better profile link.
Set your Public Profile to Full View, so your profile can be seen by anyone.
Reach out to people you have worked for/with or gone to school with and link with them if you can. Do this for any current or previous organization with which you have had an association.
If you find someone in LinkedIn that you would like to connect to, but you don't have an e-mail address for, you can still contact them by requesting an 'introduction' through someone else in your network who is connected to the person.
You can build your profile further by asking others in your network for LinkedIn Recommendations. A series of good recommendations will help build and improve your profile.
ZoomInfo – http://www.zoominfo.com
This popular site extracts information about people and companies from publicly available online sources. Then it automatically compiles that data into easy-to-search profiles. If your name appears as a search result, you can claim your profile and update the listing. If it is not available, you can create a new profile about yourself.
VisualCV – http://www.visualcv.com
This site is designed primarily for job seekers, but for political candidates it provides another place to create a professional profile themselves. VisualCV provides an online resume generator that includes all the components of a traditional resume, along with add-ons like images, video, and links. You can share your profile with an optional vanity URL.
Naymes – http://www.naymz.com
Designed to create a 'Personal Branding Profile', Naymes is a professional networking platform that allows you to find and discover connections based on similar backgrounds and reputations. Your profile can be made visible to search engines. It also has a real-time monitoring tool so you can keep an eye on what is being said about you online across various sources such as blogs, news sites and social networks.
DandyID – http://www.dandyid.org
DandyID lets you easily collect all of your online profiles in one convenient place and allows people to discover the real, verified you across the web. Setting up an account on this site helps cross-link your profiles, which helps make them become more relevant for searches related to your name.
By creating profiles on these sites, you can brand yourself and begin to network with others. The sites listed above are not inclusive. Depending on your personal or professional status, you may want to create personal profiles on industry-related sites or even local community websites.
Go Wild
There are dozens of profile sites out there. If you find more that you want to add yourself to, go for it. The sites listed above are free and popular, and you should start with them.
Services like http://claim.io will register your name, claim your vanity URLs, and insert your messaging and logo across many top social media and social networking sites. This is particularly useful for businesses, but if you plan to have a high-profile campaign, you may want to consider this option.
The least you need to know
Is it essential to build profiles and put content on all of these sites? No, but it is better that you control accounts on these primary websites than to risk someone else picking them up and possibly using them against you.
Zoominfo, VisualCV and Naymes are more like a static resumes, and probably won't need to be updated very often. Facebook and Twitter are more designed for users to keep in touch with others, so status updates play an important role in how they work. On LinkedIn, keep your professional profile up to date and post regular updates of your current projects.
Use a consistent name throughout your profiles to reinforce your 'brand'. This name should match the name you will use on the election ballot.
In time, your profiles will begin to appear in searches related to your name. Link your profiles together whenever possible (Naymes is useful for this purpose). Cross-linking similar pages builds relevancywith your name. Later in the campaign, you will use these profiles to link to your campaign website and related campaign material to help give that material a boost in traffic, search engine rankings, and depth of credibility.
The bottom line is that the web is where voters look for political information. If you do not put out information about yourself, then someone else will.
Action Steps
First, create personal accounts on the recommended websites. Only add information that you are comfortable providing. Keep in mind, of course, that if you are running for public office, there won't be much information about you that isn't public.
Try to include a head shot photo into your profiles. It should be a recent picture, where you are dressed nicely. A smile always helps, too.
When you have completed your profiles, go back into them and try to cross-link them, where possible.
Maintain a list of your profiles and keep them up-to-date.
Additional Reading
How Not to Ruin Your Political Career on Social Media