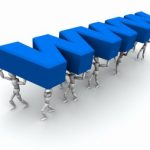 Securing (registering) a domain name (i.e. smithforsenate.com) is one of the first steps you should take even if you are just considering a run for office. Registering a domain name is simple and inexpensive. You can do it long before you commit to having a website.
Domain registration and web hosting are two separate processes.
First, a domain must be registered through a domain registration company (called a registrar). That domain name is pointed to the server of a hosting company where the actual website resides. You can choose to register your domain name and host your site with the same company or you can split your domain registration and hosting between two companies.
This resource is only available to members!
Joining OnlineCandiateResources.com gets you instant access to:
Exclusive Video Course - Running for Office as an Online Candidate

275+ articles focused on online political campaigning

Downloadable campaign worksheets and checklists

Custom tools, including the Campaign Letter Generator, Search Tools and more

Political resources for fundraising, email and promotion

And much more!
Access is FREE for Online Candidate website clients. Find out more.
If you are a current member, log in using the form to the right. If you are not a member, you can Join Now.