OnlineCandidateResources.com provides strategies and ideas for online campaigning. There are seven core training modules, hundreds of articles, along with additional tools and resources to help candidates get the edge in gaining voter support and donations online.
This site is operated by Shane Daley, Partner of Daley Professional Web Solutions and Online Candidate®. (Follow on Linkedin / Google+) Shane has over a decade experience as a web developer, with a strong focus on search engine optimization and online marketing. He designed and maintains the software of the Online Candidate® content management system.
Our Story – The Short Version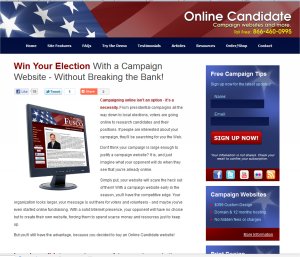 When we started OnlineCandidate.com in late 2003, it was tough to convince local candidates that a campaign website could help them. Today, political candidates of all levels realize the power of an online presence.
And with that power lays peril. From choosing a domain name to hiring a web developer to maintaining a website to online fundraising to keeping up with social networking, there's a lot to do and a lot to know.
This candidate training website is designed for campaigns who want to leverage online communication to reach, communicate and motivate supporters. We focus on the essentials of creating an effective presence for online political campaigning. Our goal is to distill the online opportunities, tools, and strategies in order to reach out to voters and help build the support necessary to win an election.
Effectively managed, you can leverage the power of the web to increase your campaign's overall resources both online and offline.
Today, it's not a matter of whether you put your campaign online – it's a matter of how you do it!